June Condo Sales Spring back and Prices up in Waterloo Region
Hope you enjoyed a wonderful Canada Day, and are staying cool during our summer heat wave! The spring market may have been delayed due to Covid 19 but it has sprung back in a big way in June.
The number of homes sold in June shot up 57.6 per cent compared to May. There were 673 residential homes sold in June 2020, an increase of 2.1 per cent compared to June 2019, and an increase of 8.5 per cent compared to the previous 10-year average for June.
Total residential sales in June included 413 detached homes (up 1.7 per cent from June 2019), and 67 condominium apartments (up 36.7 per cent). Sales also included 134 townhouses (down 15.7 per cent) and 59 semi-detached homes (up 31.1 per cent).
Total residential sales during this second quarter (April, May, June) are down 33 per cent compared to last year. On a year-to-date basis, they are down 15.6 per cent.
I expect for the remainder of 2020 will see the number of home sales returning to near historical levels. There will be some catching up to do in the coming weeks, but I don't think you will see the market taking the summer off.
The average sale price of all residential properties sold in June increased 12.8 per cent to $601,285 compared to the same month last year, while detached homes sold for an average price of $698,736 an increase of 13.2 per cent. During this same period, the average sale price for an apartment-style condominium was $372,392 for an increase of 13.2 per cent. Townhomes and semis sold for an average of $457,851 (up 11.4 per cent) and $504,816 (up 17.3 per cent) respectively.
The median price of all residential properties sold in June increased 14.4 per cent to $564,000 and the median price of a detached home during the same period increased 11.9 per cent to $650,000.
There were 920 new listings added in KW and area last month, the most added in a single month since May of last year, and 1.9 per cent more than the previous ten-year average for June.
The total number of homes available for sale in active status at the end of June was 640, a decrease of 28.7 per cent compared to June of last year.
The number of Months Supply (also known as absorption rate) continues to be very low at just 1.4 months for the month of June, 22.2 per cent below the same period last year. The previous ten-year average supply of homes for June was 3.22 months, and in the past 5 years, the average supply for June was 2.22 months.
The average days to sell in June was 16 days, compared to 20 days in June 2019.
Historical Sales By Property Type  
Months Supply of Homes for Sale 
Historical Median Sales Price – By Property Type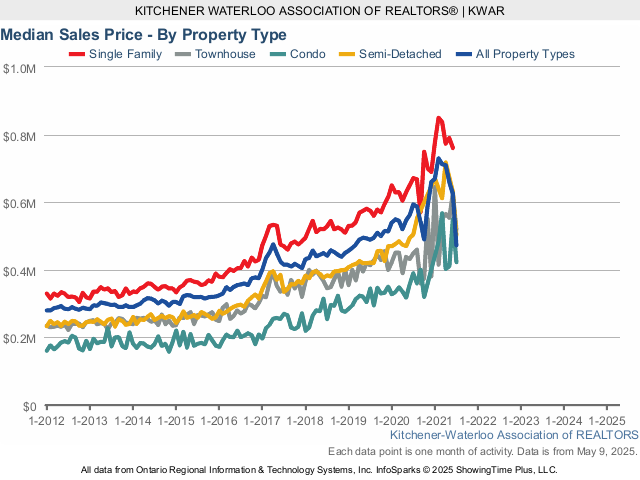 Historical Average Sales Price – By Property Type 
Historical Sales – By Price Range 
If you are thinking of buying or selling in the coming months or have any questions at all, give me a call,  text at 519-497-4646 or shoot me an email to kevinbaker@kwhometeam.ca  Stay healthy and stay safe!
Have a great week!
Kevin
This entry was posted on July 8, 2020 by kevinbakerrealestate. It was filed under Buyers, Kitchener Waterloo, Loft Style, New Construction, Sellers, Uncategorized and was tagged with 1 victoria, 100 garment, 100 victoria, 144 park, 42 bridgeport, 85 duke, agent, agents, april, arrow, arrow lofts, assessment, assessment value, bank of canada, banks, barra condos, bauer, bauer lofts, big banks, blackberry, Buyers, bylaw, cambridge, canada trust, canadian mortgage housing corporation, carbon monoxide, charlie west, CHMC, cibc, city center, city center lofts, city centre, city centre condo, city centre condos, closing costs, closing paperwork, CMHC, condo, condo buyer, condo buying, condo costs, condo lofts, condo prices, condo sales, condo selling, condo unit, condo units, condo update, condo value, condominiums, condos, condos for sale, contribution, corona, covid, covid-19, days on market, downsizing, downtown, eatons lofts, exclusive, fall, fall market, fall update, february, federal home buyers program, first time buyer, fixed rates, for sale, free house evaluation, government, HBTC, hiring a realtor, home, home buying, home energy, home energy audit, home evaluation, home inspectors, home insurance rebate., home maintenance, home prices, home sales, home selling, home value, house, house prices, house value, housing grants, kaufman, kaufman lofts, kevin baker, kitchener, Kitchener Waterloo, ktichener, kwhometeam, land transfer tax, landlord, landlords, lawyers, lending, license, loft, loft apartments, loft buying, loft prices, loft sales, loft selling, lofts, mansion, mansion lofts, mansion7, march update, market, market anaylsis, market update, market value, may condo sales, mls, MLTT, momentum, momentum developeres, mortage rates, mortgage, mortgage brokers, mortgage news, mortgage rates, mortgage renewal, mortgage rules, mortgages, mulitiple listing service, new construction, newspaper ads, november update, ontario, open house, options for homes, paperwork, park, prices, prime rate, private, rates, rbc, re/max, real estaet, real estate, real estate agent, real estate investment, realtor, realty, reamx, red condo, red condos, remax, remax agent, remax twin city, remax twin city realty, royal bank, rrsp, rules, sale, sales rep, sales representative, sales reps, seagrams, seagrams lofts, segrams, Sellers, selling my condo, selling your home, september, special assessement, spring market, status, status certificate, street, student, summer market, tanglewood condo, tax refund, TD Bank, to do list, twin city, twin city realty, twin city reatly, update, updated, updates, value, variable rates, victoria commons, virus, waterloo, waterloo home sales, waterloo regiion, waterloo region, winter, winter market, yogi bednjicki.